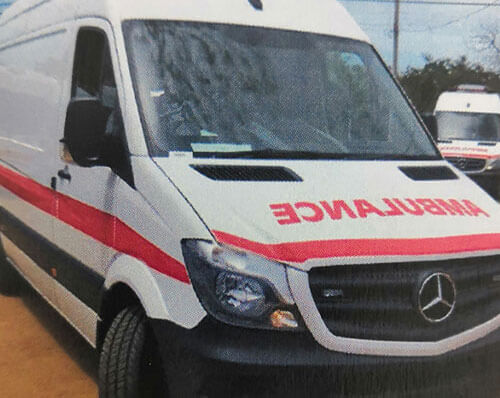 Feb 23, 2021 / admin
SAF secures contract to supply 100 Ambulances to the Ministry of Health!
SAF has secured a major order to supply 100 fully equipped ambulances to the Ministry of Health.
A leading supplier of healthcare equipment in the country, SAF International (Pvt) Ltd has secured a major order to supply 100 fully equipped ambulances to the Ministry of Health as part of the ongoing hospital modernization project of the Sri Lankan healthcare sector. This contract is yet another example of the company's stature as a leader in supply and servicing of critical healthcare equipment and reflects its unmatched expertise in servicing complex, high profile medical equipment projects
The first batch of 20 out of the 100 ambulance units was distributed to the respective Hospital Directors on 20th July 2018 under the auspices of Dr. Rajitha Senaratna, Hon. Minister of Health.
Mr. Martin Dlouhy, Managing Director of D-Dlouhy GMBH, Mr. Senake Amerasinghe, Honorary Consul, Consulate of Austria and Mr. Christoph Pfeifer, Commercial Attache at the Austrian Embassy were also present at the occasion.
These ambulances were supplied under a credit agreement (soft loan) entered into by the government of Sri Lanka with the government of Austria at 0% interest and payable over a period of 21 1/2 years. The Hon. Minister intends requesting the supply of a further batch of 100 ambulances equipped with similar advanced facilities to transport infants and children under the same loan terms.
It is the first major ambulance order serviced by SAF International which has been accredited as an approved supplier of healthcare equipment and products in Sri Lanka. The company has undertaken several high profile healthcare projects in the past in collaboration with its parent company, Biomed International (Pvt) Ltd, one of Sri Lanka's largest and leading medical equipment suppliers.
The ambulances are built according to the European safety standards and fulfill all relevant guidelines. They are equipped with a range of advanced fixtures and fittings, including a patient ventilator, defibrillator & monitor, oxygen supply systems, suction pump, nebulizer and an array of medical equipment with a view to ensuring unmatched patient care while in transit. With ample space for stretchered patients, seated patients and crew members, the new fleet of ambulances meets both the clinical and aesthetic needs of the demanding members of the healthcare community. Incidentally, SAF International is the first Sri Lankan company to supply such an advanced fleet of ambulance vans that meets the evolving needs of the Sri Lankan healthcare sector.
The project also exemplifies the company's ability to leverage its rich expertise in the sourcing, supply and servicing of complex healthcare products and equipment, particularly for large scale hospitals such as the National Hospital of Sri Lanka and Teaching Hospitals in the country.
SAF International, also provides total interior solutions for Architects, Consultants, Interior Designers and Contractors with a wide range of world renowned architectural products and currently represents globally acclaimed brands such as Tarkett (France), Tandus (USA), Construction Specialties (USA), ADE GmbH & Co. (Germany), HoMedics Group Ltd (SALTER House-ware, UK) and Avery Weigh-Tronix (UK).
SAF International is a member of the Biomed Group.